Last month on June 20, 2019 in Brazil, 3 million people took part in the 27th annual March For Jesus, in Sao Paulo, Brazil. Brazil's current leader, president, Jair Bolsonaro, participated the march.
"One of the things that got me elected as president was my sense of respect to families, principles, tradition and custom," he told Fox News "@Night." "And of course respect towards our culture as well as our religion. I am a Christian."

https://www.foxnews.com/search-results/search?q=Bolsonaro&ss=fn&start=0
How wonderful it is for any country when their leader is a believer in Jesus Christ!
How wonderful a day it must have been when 3 million people, 28 Brazillian gospel bands and singers, and countless evangelical pastors and leaders all spent the day praising our Lord and Savior!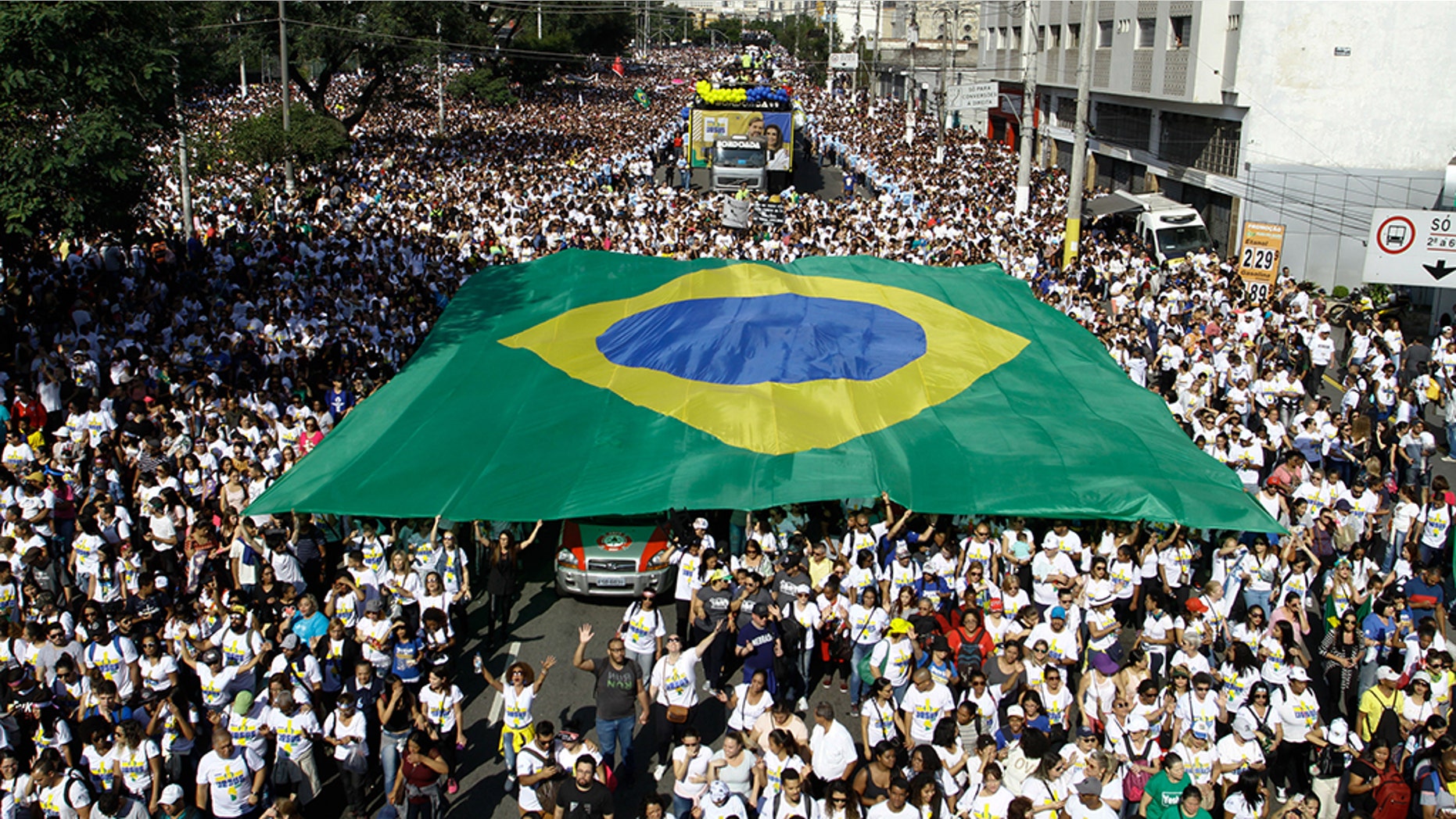 "You were decisive in helping change the destiny of Brazil," Bolsonaro said to the people in his speech. "It is very good to be among friends. And even better when they are friends with God in their hearts."

https://www.foxnews.com/faith-values/brazil-evangelicals-jesus-march-million
President Bolsonaro reminds me of a certain leader in the Bible who celebrated the Lord with his people—King David.
2 Samuel 6:14-15 Wearing a linen ephod, David was dancing before the LORD with all his might, while he and all Israel were bringing up the ark of the LORD with shouts and the sound of trumpets.
David, the king of Israel, danced before the LORD with all his might while wearing a linen ephod. An ephod is a simple garment that can be compared to an apron with a skirt. It is in no way considered full attire by itself, especially for a king.
David's thoughts were of God and he turned to God in all things.
Though David's wife, Michal daughter of Saul, insulted David for what he was wearing and what he was doing, David did not care because his heart was all in for God! And because of David's heart, God blessed David and Israel. David was teachable, submissive, and repentant to God. His thoughts were of God and he turned to God in all things.
However, when David did mess up, he returned to worshipping God and accepted His judgement. This happened after David fervently fasted and prayed that his baby with his new wife Bathsheba, widow of Uriah the Hittite whom David had killed, would not die. But the baby did die.
2 Samuel 12:20 Then David got up from the ground. After he had washed, put on lotions and changed his clothes, he went into the house of the LORD and worshiped. Then he went to his own house, and at his request they served him food, and he ate.
Though David had his share of troubles, God continued to find favor on David blessing Israel through Solomon, another son of David.
Christians, the Bible tells and shows us that when a nation follows Him, they are blessed.
Deuteronomy 28:1-7 If you fully obey the LORD your God and carefully follow all his commands I give you today, the LORDyour God will set you high above all the nations on earth. All these blessings will come on you and accompany you if you obey the LORD your God: You will be blessed in the city and blessed in the country. The fruit of your womb will be blessed, and the crops of your land and the young of your livestock—the calves of your herds and the lambs of your flocks.
Your basket and your kneading trough will be blessed. You will be blessed when you come in and blessed when you go out. The LORD will grant that the enemies who rise up against you will be defeated before you. They will come at you from one direction but flee from you in seven.
I ask that you pray right now, that we as the United States of America, or whichever nation you are reading this post in that you call home, I ask that you pray for God to be in your country. That all countries not only have millions who march for Jesus, but millions who pray for Jesus to come.
Heavenly Father, I come before you as a citizen of a nation that is broken and needs healing. We have lost sight of you, the One True God, and I ask for your forgiveness. Lord, please find favor with the leaders of my government and change their hearts to Jesus. May they come to realize it is not party versus party but good versus evil. May those same leaders see how this evil delights in our petty battles amongst ourselves, and that righteousness and goodness for all peoples will prevail if we simply claim Jesus as King.
Thank you, LORD. Amen.
---
---
SHARE: PRAISE GOD, MILLIONS MARCH FOR JESUS!, on Facebook.
---
---
To learn and share the importance of keeping God's name holy, order copies of my book, LIFT HIM UP DON'T PULL HIM DOWN, @ LULU.COM or AMAZON.COM for your next Bible study.