For the last few weeks a high volume of Christians have been deep in the trenches, drawn together doing what we do best in all situations—Praying! Prayer is a powerful thing! When family (as well as ourselves), friends, anyone—including our government—is suffering, Christians ALWAYS offer prayer.
In the midst of Washington D.C. battling itself, Republicans versus Democrats over the nomination of Judge Brett Kavanaugh to the United States Supreme Court, I have noticed fervent requests for Christians to pray.
Before the Senate confirmation hearing even started, God was faithfully invited by Christian leaders and groups to watch over the upcoming process.
"Faith & Action and LIBERTY COUNSEL hosted an ecumenical prayer service on August 3, 2018. Liberty Counsel Founder and Chairman Mat Staver gave the opening remarks. Other Liberty Counsel, Faith & Action, and pastoral leaders prayed and spoke Scriptures for Judge Kavanaugh and his family, President Trump and Vice President Pence, the Supreme Court justices, the Senate, and the nation."
 "As you pray, ask God to thwart smears and lies, and spread truth."
INTERCESSORS FOR AMERICA, before the process of the official Senate hearings began, also prayed and encouraged their readership to pray: "May God's choice for Supreme Court Justice prevail." 
With full concern for the American process, Intercessors For America prayed for Judge Kavanaugh, special interest groups, and every member of the Judiciary Committee by name.
---
CENTER FOR NATIONAL RENEWAL, WASHINGTON D.C.,  on July 10, 2018, asked for prayer on their website, again, before the committee confirmation hearing started:
"WILL YOU JOIN ME NOW IN PRAYER THIS WEEK?
Father in heaven, we thank You for the significant undertakings occurring in Washington this week. We know it is by Your sovereign plan that our leaders are in place. You have placed them in their positions of authority out of Your own will and purpose.
We ask that You grant them wisdom, discernment, and understanding in all of the decisions they make. We pray that our leaders and fellow citizens of this nation humbly bow and turn their eyes to You in all that they do. Thank You for the work being done on Capitol Hill. . ."
---
OpenHeaven.com also offered prayer before the proceedings took place. They prayed that the right person for the court's highest seat would be selected in a number of ways: 
For a Supreme Court Justice that fears the Lord:

"He said to the judges, 'Consider what you are doing, for you do not judge for man but for the LORD who is with you when you render judgment. Now then let the fear of the LORD be upon you; be very careful what you do, for the LORD our God will have no part in unrighteousness or partiality or the taking of a bribe.'"

(2 Chronicles 19:5-7 ESV)
For a justice that will honor the founding documents of this nation, especially the U. S. Constitution:

"Then I will restore your judges as at the first, And your counselors as at the beginning; After that you will be called the city of righteousness, A faithful city."

(Isaiah 1:26; NASB)
That we would continue to seek God and His Divine purposes for America, above every earthly activity and person:

"For the LORD is our Judge, The LORD is our Lawgiver, The LORD is our King; He will save us—"

(Isaiah 33:22; ESV)


---
AMERICAN FAMILY ASSOCIATION offered their prayer:
"Unfortunately, there are already those who are showing no respect for the American process or the rule of law," said AFA President Tim Wildmon. "Some on the committee are doing everything they can to stop the proceedings, while guests inside the U.S. Senate committee chambers are causing loud and boisterous disruptions.
"We are Americans, and while we may not agree on all things, we should agree to respect the process and allow it to move forward.
"But the left is becoming more and more open with their hatred for President Trump and anyone who is associated with his administration. Quite frankly, it's becoming dangerous for these people and their families. That's why the faithful must come together in prayer this week for Judge Kavanaugh, our nation and for this very important nomination."
---
America needs God, and America needs prayer.
GIVE HIM 15, a Christian site dedicated to giving God 15 minutes of prayer each day posted this on their site:
"Pray for President Trump and other leaders in our nation who are standing for life and for America's God-given destiny."
"President Trump, though imperfect, is doing a good job. Make no mistake about it, the vile hatred of him by the left is not because of his immoral past. They hate President Trump because he is helping turn around the antichrist agenda they love, and because he is halting their transformation of America into something other than what was intended by God and our Founders."
---
FRANKLIN GRAHAM asked Americans to pray specifically:
"Ask God to give the men and women of the Senate Judiciary Committee wisdom and guidance as they meet with Judge Kavanaugh — and to deliver them from opinions that are contrary to His Word. Pray that the Lord will bless Judge Kavanaugh — and his loved ones — with strength, endurance and stamina during this intense process,"
"Let's thank God for the opportunity to have a Supreme Court that adheres to Biblical values and pray for a smooth confirmation process,"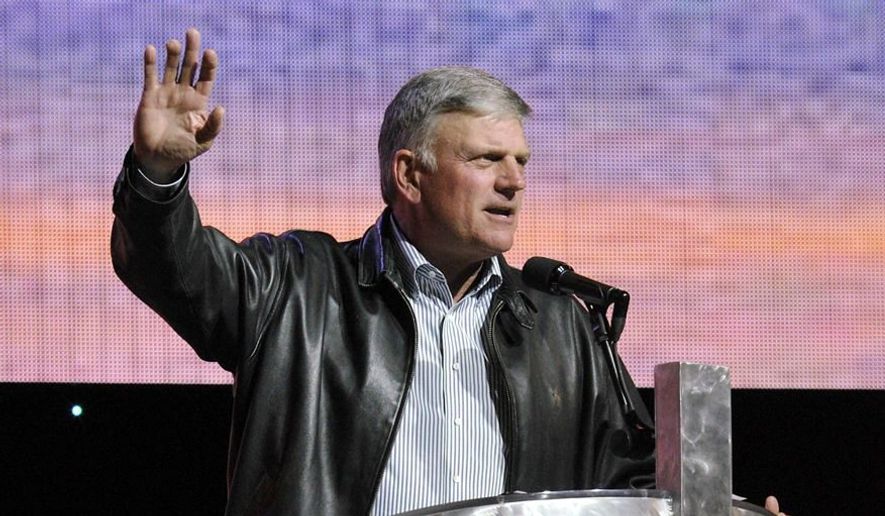 ---
The Shrine of the Most Blessed Sacrament Catholic Church in Washington, DC, Judge Kavanaugh's home church, offered prayer for all concerned during the Senate testimony.
"When someone is hurting, you hold them up in prayer," Liz Brach, a parishioner, said.
"We believe in the power of prayer."
"We do not know what Kavanaugh is guilty or innocent of, or what pain Kavanaugh's accusers have experienced at his or other men's hands. We do know that this is a difficult process for all involved. 
As the Kavanaugh hearings come to a close in the coming days and weeks, pray that the Lord would bring healing and give grace to all parties currently in the public spotlight, as well as their families. Pray that God would guide those in authority and that, in the end, justice and truth would prevail."
---
Local GRACE LIFE CHURCH, PITTSBURGH, also had a presence in Washington as the final vote for America's newest Justice was about to be counted.
Pastors Bruce "Buck" and his wife,  Amy Schafer,  were invited to Washington D.C. to pray with many other pastors for our country.
---
CONCERNED WOMEN FOR AMERICA,is a special group that brought their hearts for Christ to Washington D.C.  During the testimony of Christine Blasey Ford, the group gathered together in prayer.
"[God's] presence is here on Capitol Hill today," the prayer leader said.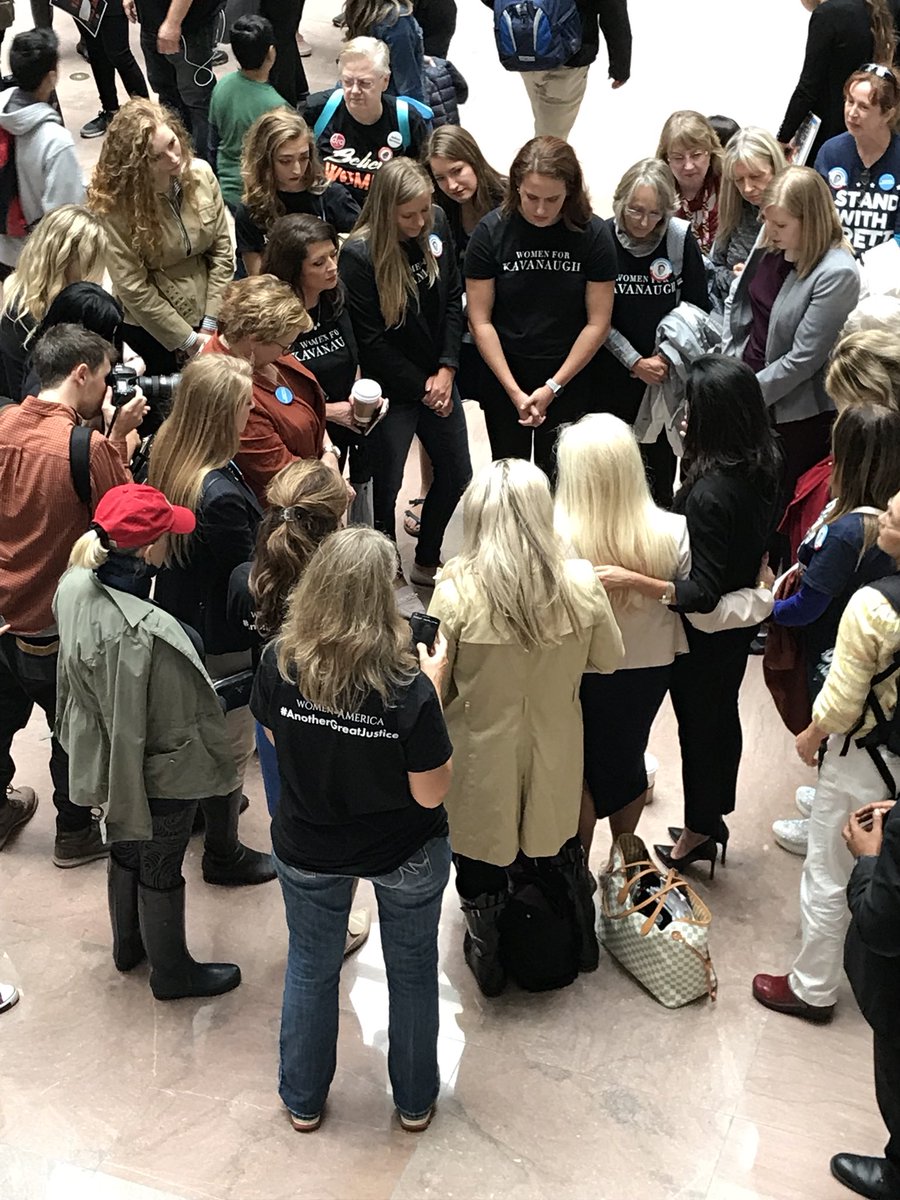 They prayed for Judge Brett Kavanaugh, Christine Ford, for sexual victims, and for the Senate.
Also in attendance was Mallory Quigley, vice president of communications for the anti–abortion rights Susan B. Anthony List—"The worst thing that can happen to any woman or man who has been a victim [of sexual assault] is to shut them down and not listen to them," Quigley stated. "That is why we commend Senator Grassley for working so hard and his staff to navigate this situation and make sure that Dr. Ford has her opportunity to tell her story."
And, many, many more Christian groups, leaders, websites, and churches prayed for America as Washington continued to battle amongst itself.   
Then, in the final stage of the judicial process, as Republican and Democratic Senators cast their vote, more than 100 Concerned Women For America gathered in Washington, D.C. from across the United States—to pray.
---
But—Christians, don't think your praying for Washington is done!
Until Jesus returns, our government ALWAYS needs prayer. 
Most of our Presidents understand this to be true.  On June 6, 1944, Franklin D. Roosevelt "did what would be unthinkable today," —
"he asked the American people to "join" him in prayer. As he led the nation in a solemn petition for the lives of thousands of American and Allied men – boys, really – who were crossing the English Channel and landing on the bloody beaches of Normandy, France, he asked for God's will to be done in the great endeavor that was D-Day."
But, Roosevelt did not stop his petitions there—
"Many people have urged that I call the nation into a single day of special prayer. But because the road is long and the desire is great, I ask that our people devote themselves in a continuance of prayer. As we rise to each new day, and again when each day is spent, let words of prayer be on our lips, invoking Thy help to our efforts."
Christians, please continue to consider and follow the acts and prayers of all those concerned with the Senate Judiciary Committee, and those of President F. Roosevelt. Though leaders try to pass, interpret, and enforce law—Christians know God is in control.
Please remember to do what faith asks of us in all situations—Pray for America.
1 Timothy 2:1-4 First of all, then, I urge that supplications, prayers, intercessions, and thanksgivings be made for all people, for kings and all who are in high positions, that we may lead a peaceful and quiet life, godly and dignified in every way. 
This is good, and it is pleasing in the sight of God our Savior, who desires all people to be saved and to come to the knowledge of the truth.
---
---
SHARE: Prayer Is A Powerful Thing!
---
---
To learn and share the importance of keeping God's name holy, order copies of LIFT HIM UP DON'T PULL HIM DOWN @ LULU.COM or AMAZON.COM for your next Bible study.